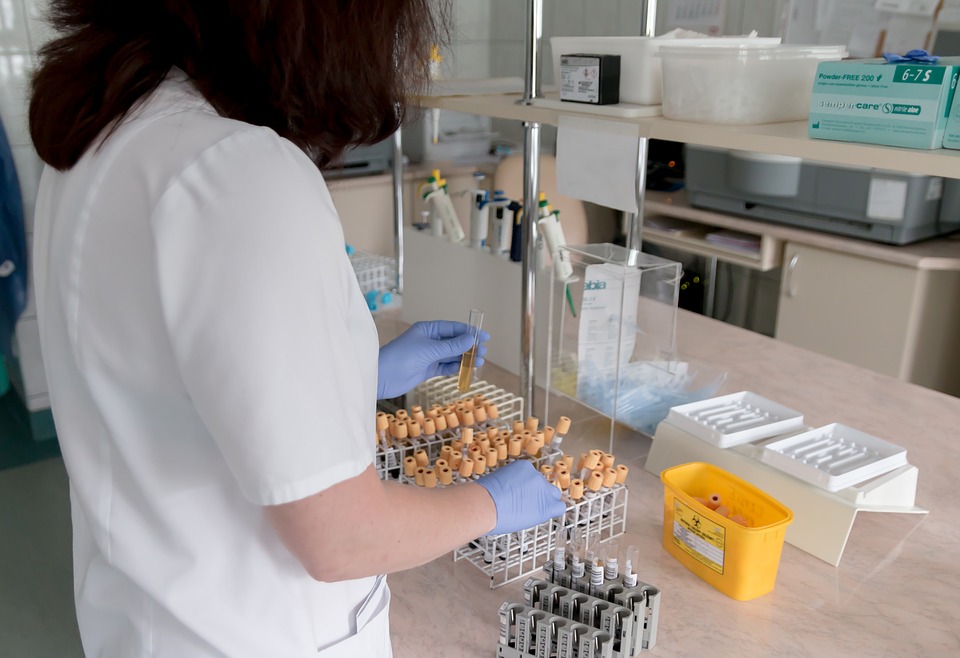 Are you looking for a less expensive STD Testing alternative?
STD Testing 24/7 is one of the least expensive anonymous STD lab test services in the US.
They offer a full 8-test panel for just $199.95 or single tests starting as low as $60.95.
They also sell an HIV early detection test.
Save NOW at STDTesting247.com
Below is our full review of STD Testing 24/7where we look at their packages, level of confidentiality, customer experience, and customer feedback.
If you want to know more about various STD testing services, then see our complete list of STD tests compared.
Who is STD Testing 24/7?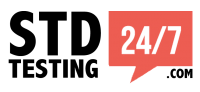 STD Testing 24/7 is an anonymous lab-based STD testing service based in the US.
They offer a wide selection of STD tests which you can easily order online and have a network of over 4,000 labs where you can get a sample taken.
All their partner labs are CLIA-certified, which means their tests are FDA-approved.
And because you give a sample at a lab – as opposed to taking the sample yourself –the risk of false results resulting from contamination is low.
They also provide full anonymity to their customers. You don't have to make an appointment to go to the lab and there's no need to identify yourself by name. They also don't accept insurance.
---
How STD Testing 24/7 Differs from Other Providers
The thing that differentiates STD Testing 24/7 from other providers most is their budget price/value.
Most lab-based anonymous test providers charge $75+for individual tests. But STD Testing 24/7 only charges $70 for their single tests.
The HIV antibody test, which can often cost around $100, is available at STD Testing 24/7 for $90.
A full panel that test for the 8 most common STDs in the US, goes for around $200. Most full panels from other providers cost at least $250.
Their after-test support is also impressive. They not only contact you through a professional doctor if you test positive to see whether you have any questions, they also offer prescription and treatment where necessary and by local laws.
That's not all.
After using their services, you get access to a 24/7 telemedicine service not just for you but your whole intermediate family.
For $9.95 a month (the first month is free), you can call their licensed doctor at any time to ask for advice, request prescriptions or seek a second opinion.
This service will help you save on unnecessary appointments and ER visits for simple health issues that can be solved via phone or video.
---
How to Order an STD/STI Test with STD Testing 24/7

You can only order a test from their official website. Visit their main page to select your test.
Their website is secure, so you can be sure that your personal information and credit card details are well protected.
Select which test you want to take. If you are testing for the first time or you want an update on your sexual health, we recommend the full 8-test panel. It contains the following tests:
Syphilis
Hepatitis B
Hepatitis C
HIV Antibody test
Herpes 1 and 2
Chlamydia
Gonorrhea
If you are concerned about exposure to a specific STD or you are retesting a certain STD, select from the individual list of tests.
It's the same list as above plus combined chlamydia & gonorrhea package(these two are often tested together because they tend to occur at the same time).
They also offer an HIV Early Detection test different from the standard HIV antibody test. Unlike an antibody test which requires a waiting period of 3 to 12 weeks before a sure test, the early detection test can detect the presence of HIV as soon as 6-9 days after infection. It is ideal when you are concerned about recent exposure.
You can select the early detection test on its own or as part of the full panel. See the price section further below for details on costs of different single tests and combined packages.
Once you know which test you want to take, go ahead and place an order through the website. You can also order via phone.
After you make the payment, you will be sent a lab order requisition form via your email. This is the authorizing document you'll need to get tested at a lab. Print it out and carry it with you.
Find one of their partner labs in your location. They have over 4,000 of them so it should be easy to find one nearby. They have a handy tool on their website where you can search for labs by state, address or ZIP code.
Once you find a nearby lab, just pop in during working hours and present the printed lab order requisition form. You do not need to make an appointment or call ahead. Just walk in.
One of the things we like about STD Testing 24/7 is that you don't have to give your name or fill out paperwork at the lab. Instead, they give you a unique identification code that identifies you at the lab and allows you to track your results.
Note: None of these tests require any special preparations. They only recommendation is to abstain from urinating for at least 1 hour before the test if you are getting tested for either gonorrhea or chlamydia or both.
Providing a sample at the lab takes only a few minutes. Don't stick around waiting for your results. They'll be sent via email within 3 business days or sooner.
If you test positive, a doctor will get in touch with you for advice regarding the next steps you should take. You can also call them – whether you tested positive or negative – with any questions you may have.
---
Why STD Testing 24/7 Is One of Our Top Picks
Affordable price! Their single tests and multi-test panels are priced lower compared to other STD test providers. You save even more money compared to going to a lab or visiting a doctor.
Anonymity and confidentiality. STD testing 24/7 takes every precaution and follows strict privacy standards to ensure full anonymity for their customers. They adhere to HIPAA rules, don't accept insurance and don't require any name identification at their partner labs.
Quick turnaround. Your results will be in your email within three business days and often sooner. They don't keep you waiting for days fretting about your results.
Free doctor consultation. You can talk to a doctor after the test with any questions regarding your results and general health. (Note: the free consultation offer runs for 30 days after which there is a monthly subscription).
Convenient. Their service is hassle-free. It's easy to order a test and finding a lab near you takes less than a minute on their website. No appointments, no doctor visits, and no paperwork.
Save NOW at STDTesting247.com
---
STD Testing 24/7 Review: The Details
Packages and Pricing
Here are all the tests and packages available on stdtesting247.com. Visit their website for the latest prices and discounts.
Single Tests
Syphilis – $69.95
Hepatitis B – $69.95
Hepatitis C – $69.95
HIV Antibody test – $89.95
Herpes 1 and 2 – $129.95
Chlamydia – $69.95
Gonorrhea – $69.95
Chlamydia & Gonorrhea – $129.95
HIV Early Detection – $179.95
Panels

8-test panel – $199.95
8-test panel & HIV Early Detection – $299.95
Test Accuracy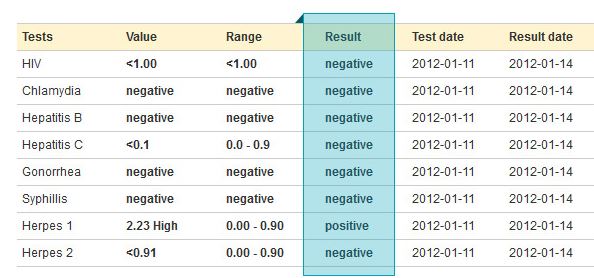 Regarding testing methods and technology, there is no difference between how STD Testing 24/7 carries out their testing and how it's done at a hospital.
All their tests are done in CLIA-certified laboratories. The CLIA certification is very strict. It requires that labs be certified both in their state of operation and by the Center for Medicare and Medicaid Services(CMS). There are other requirements and inspections too by the FDA, CMS, and CDC.
Additionally, STD Testing 24/7 only uses FDA-approved STD tests.
So you can be sure that your results have a high level of accuracy. This is not to mean that false positives or negatives are impossible. But they are very rare.
If you have an infection and it is not detected, it could be because it is too early after exposure. That's why the service recommends that their customers re-test again after some time.
Turnaround Time
Once you have provided a sample for testing at the lab, it takes around three business days for your results to be ready. Most people get their results even sooner.
There are, however, some states that mandate additional processing time. If your results take longer than you anticipated, contact customer support and they'll give you an update.
Since there is no shipping involved (results are never sent by mail for privacy purposes), your results will be sent as soon as they are ready. You will receive them in a PDF document attached to an email.
---
Confidentiality

STD Testing 24/7 takes customer confidentiality seriously.
Their website is secured by 128-bit encryption. This protects your data and credit card details.
From the time you place an order, STD Testing 24/7 abides by HIPAA rules regarding the handling and storage of your health information. It's one of the reasons they don't send you your results via mail.
They don't require that you fill out any paperwork or provide your name when visiting their partner labs. You'll receive an identification code instead.
Privacy is also the main reason why they don't accept insurance. If they did, they'd have to notify your insurance company every time you took a test.
Finally, they do not share your results with anyone other than you. And after the tests are complete, they do not store any personal or financial information.
Our only issue with STD Testing 24/7 when it comes to confidentiality is that they send results via email. This is less secure than if they provided it through a secure account on their website. But since you can't create an account on stdtesting247.com, the only relatively secure way to receive your results is via email.
Make sure the email address you provide is secure and accessible by only you. As soon as you read the results, delete the email just to be safe.
Health Counseling Options

If you test positive, a doctor will contact you to answer any questions you may have. They also offer prescriptions and treatment where necessary and appropriate.
All customers, regardless of test results, can also access their health counseling services. In fact, you can use their telemedicine service for your general health care including prescription, medical advice, referrals and simple treatments.
This service is available to you and your intermediate family for free during the first 30 days and at a monthly subscription of $9.95 after that.
Visit their website for more details on this service.
Providing Your Sample
Visit one of their labs to provide a sample. Remember you don't need to make an appointment or fill out any paperwork. Just carry the lab order requisition form that was sent to you via email. Print it out and hand it over to the lab. Note that the form will not identify you by name.
A urine or blood sample will be taken depending on which test you ordered. If you are getting tested for chlamydia or gonorrhea, avoid urinating for at least an hour before a sample is taken.
Payment Options
STD Testing 24/7 does not accept insurance for privacy reasons. They also don't accept HSA or FSA cards.
They only accept major credit cards. Your credit card statement will read "PHAS Group" to protect your privacy.
Learn More at STDTesting247.com

Guarantees
STD Testing 24/7 guarantees to keep your information and identity secure and confidential throughout the testing process and even after. Your health information and personal details are handled professionally and under strict privacy standards.
---
Frequently Asked Questions
Does STD Testing 24/7 accept insurance?
No, just credit cards.
Where do I get tested?
At one of their 4,000 certified labs. Use the map on their website to find a lab near you.
How soon will I receive my results?
In 2-3 business days.
How will I receive my results?
Via email an attached PDF.
Can I read my test results on a mobile phone?
Yes. Most phones can open PDF documents.

---
Customer Reviews: Praises and Complaints
Sorry, but we couldn't find any verifiable customer reviews for STD Testing 24/7 online. It's a fairly new service.
---
Conclusion
Although still very new, STD Testing 24/7 is one of the most affordable anonymous STD testing services. They promise lab-accurate tests, anonymity and great customer support.
Save NOW at STDTesting247.com