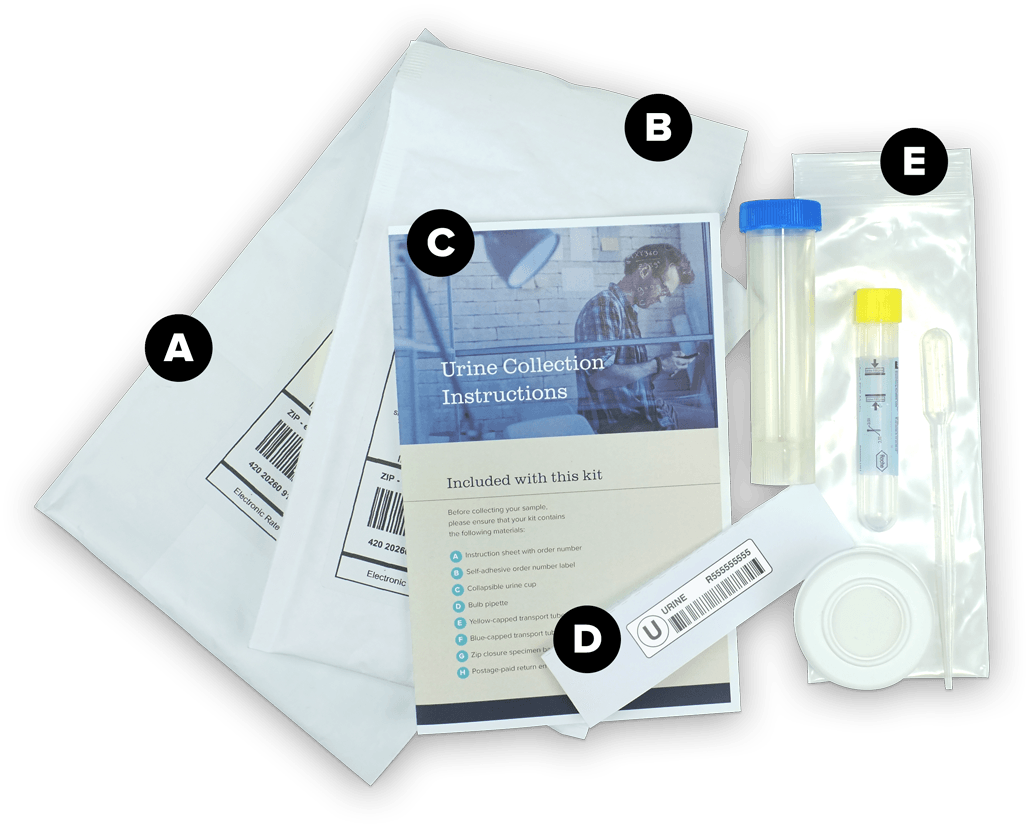 SelfCollect.com sells an at-home STD test kit that is ideal for those who want to test for the most common STDs without spending a lot of money – and need a privacy guarantee.
Shop Now at SelfCollect.com
In this in-depth review, you will learn about SelfCollect.com's at-home STD test kits. We provide details on the variety of tests available, how to order, how the test works, prices and confidentiality.
For more anonymous STD testing options, see our reviews of other popular at-home kits.
---
Who is SelfCollect?

SelfCollect, LLC is a private company that provides anonymous STD testing services online.
Self collect offers STD tests only. There are no other health tests on their website. So you won't have a hard time finding what you are looking for.
They launched their secure web platform in 2016 and has since become a popular online at-home STD testing service.
The company offers several test packages for both men and women, including a full female STD panel, a vaginal discharge test and an oral STD test among others.
Their prices are about average in the market, with a 5-test panel going for $150. This is low by industry standards, but the packages are not very comprehensive.
---
How SelfCollect Differs From Other Providers

SelfCollect has one of the strictest confidentiality policies among online STD test providers. At every step of the testing process, from ordering a test to viewing your results, SelfCollect protects your identity and provides complete confidentiality.
When ordering, the minimum information required is your date of birth, shipping address, and payment details. You only provide your name and contact information if you decide to create an account. And even then, your information is kept tightly secure.
The kit is delivered in discreet packaging with no hint of what's inside. Even the test results do not have your name displayed on them, just your birth date. And in your financial statements, a generic name is used for your STD testing transactions.
If you are really worried about someone finding out that you took an STD test, SelfCollect provided peace of mind. You can get tested knowing that only you will be aware of the test and its results.
Another thing that stands out with SelfCollect is that they are one of the few anonymous STD testing services that offer anal STD testing.
---
How to Order an STD/STI Test at SelfCollect.com

The SelfCollect STD test kit is only available at SelfCollect's official website, SelfCollect.com.
Visit the website and select the STD test that is best for your situation.
You can choose multiple tests depending on your needs. See further below for a list of all packages and prices.
Note that you cannot order an STD test for someone else because of HIPAA regulations. If you want to get a test for your partner or a friend, buy a SelfCollect gift card. Gift card denominations are $50, $75 and $100. You can also enter a custom amount.
They will receive a link with which they can create an account and order a kit on their own.
When you order a kit and make the required payment, you will receive the kit in 3-5 business days. You can opt to receive the kit sooner by paying extra for Priority Mail.
The kit will arrive in a nondescript envelope with no SelfCollect name or branding anywhere on the package.
Collect a sample as soon as the kit arrives, making sure you follow all the instructions. Secure the sample as instructed and mail it back to self collect. Shipping is free both ways.
Once the sample has arrived at the testing facility, your results will be available in around four business days.
---
Why SelfCollect.com Is One of Our Top Picks
Their level of privacy. We are impressed by the level of confidentiality that SelfCollect offers – especially the fact that you don't even have to create an account to order a kit from them. That means you can opt not to have your name in their system, at all. Their ability to handle the entire process with discretion – unbranded packaging, generic financial statements, and no-name results –is perfect for those who are extra sensitive about their privacy.
They are affordable. If you are looking for a pocket-friendly ways to get anonymously tested for an STD, SelfCollect.com is a good option.
A wide variety of tests. Self collect has a wide selection of STD tests to choose from including Ureaplasma & Mycoplasma tests, anal STD tests, and genital Warts Viruses tests. All the tests are offered at affordable prices.
Shop Now at SelfCollect.com
---
In-Depth SelfCollect.com Review
Packages and Pricing
For the female STD test panel, male STD test panel, anal STD test panel and high-risk HPV test, there is an optional genital warts viruses test that costs an extra $30.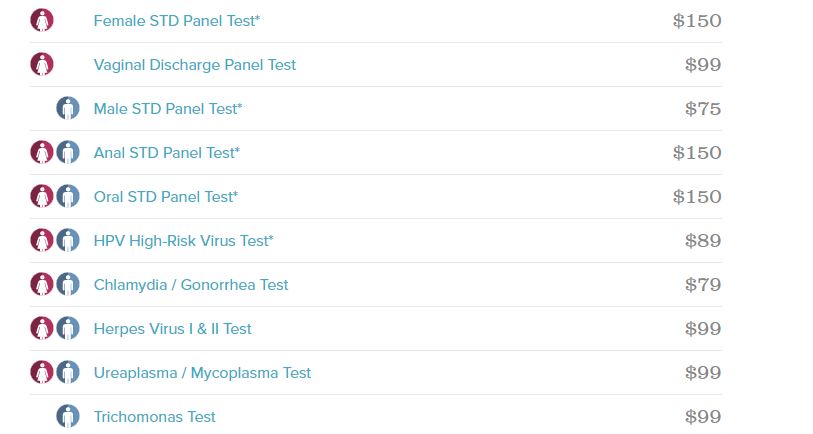 Accuracy of Test
SelfCollect works with a certified laboratory to test all samples. They use modern and proven methods including Nucleic Acid Amplification Testing (NAAT)to ensure the highest accuracy of their tests.
If you think you have received a false positive or negative, consider buying another kit.
Sometimes, your results will be marked as 'indeterminate.' SelfCollect will automatically ship you another kit free of charge so that you can re-test. Only one replacement is allowed.
They can also send you a new kit if you think you did not collect a sample properly which could cause inaccurate test results.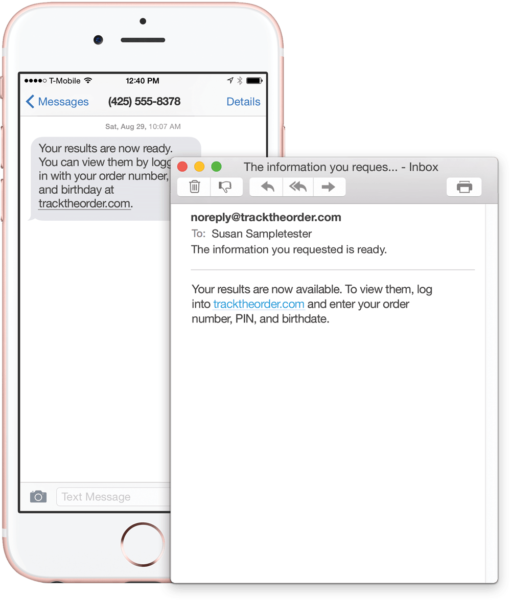 Turnaround Time
As with most at-home STD tests, the turnaround time is quite lengthy. This is because the kit has to be shipped to you and you have to ship the sample back.
So while a walk-in lab test can give you results in just a day, an at-home test can take over a week before you get your results.
The SelfCollect kit arrives at your home in 3-5 business days, sooner if you pay for the expedited option. Once you send in the sample, it takes at least four business days for the results to be released.
Confidentiality
Ordering a kit at SelfCollect.com is completely confidential. You don't even have to sign up for an account. You can order as an anonymous user using only your birthday, shipping address and payment details.
The kit is delivered in discreet packaging and transactions in your financial statements are recorded as "Knowledge House."
When the results are released, you can only access them on SelfCollect.com using your username or birthday and password. No one else has access to your results.
Health Counseling Options
SelfCollect.com does not provide any health counseling services at the moment. Even if you get a positive result, they don't provide any physician consultation.
You have to consult your doctor.
Providing Your Sample
The kit will come with clear instructions on how to collect and secure a penile, vaginal, anal or oral mouth. You can also check the resources section of their website for advice.
The type of sample provided depends on the type of test ordered. Some tests require only one sample from a single body site while others require multiple samples from different body sites.
If you accidentally mess up the sample and kit, contact SelfCollect's customer support, and they will send you a replacement.
Payment Options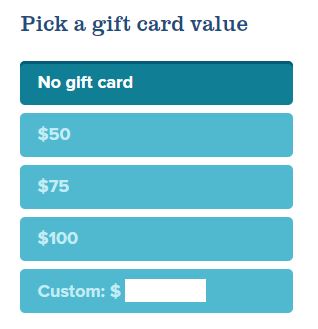 SelfCollect accepts major debit and credit cards including American Express, Visa, and MasterCard.
They also accept SelfCollect gift cards, which can be used to give your partner a free test (how nice of you).
They do not accept insurance, citing confidentiality reasons (they would have to notify your insurer of the test).
They also do not accept HSA/FSA cards.
See All Payment Options
Guarantees
self collect guarantees to keep your personal and health information private. They abide by strict HIPAA rules.
---
Frequently Asked Questions
Does SelfCollect accept insurance?
No, but you can pay using major debit and credit cards.
Does SelfCollect provide HIV testing?
No.
How long will it take to get my results?
It usually takes four business days to get results once you have sent them your sample.
Do I have to go to a lab?
No. You collect the sample yourself in the comfort and privacy of your home.
---
Customer Reviews: Praises and Complaints
SelfCollect.com is a relatively new website, so there aren't many customer reviews out there, yet.
The few available praise the company's seriousness with customer privacy. Many also say SelfCollect prices are some of the lowest.
The only complaint is that it can take a bit longer than others to get your results.
---
Conclusion
SelfCollect is one of the most affordable at-home STD testing services for the most common diseases.
If you are looking for a way to get tested without going to the lab or a clinic and with maximum anonymity, then we recommend them.
Learn More at SelfCollect.com