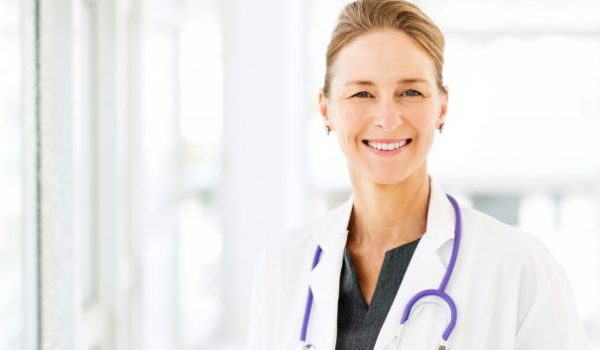 If you're looking for an at-home STD test that won't break the bank, MyLabBox.com is a great choice.
SAVE $10 NOW
MyLabBox.com one of the most affordable at-home STD testing services sold online. It's a great choice for those who can't or don't want to go to a lab.
This page contains an in-depth review of MyLabBox's products and services. It covers their STD testing packages, privacy policy, test accuracy, confidentiality and payment options.
To compare this service with others such as PersonalLabs.com and STDCheck.com,  check out our STD Test buying guide. You'll find reviews of the leading walk-in and at-home anonymous STD testing services.
Who is MyLabBox?
MyLabBox is one of the leading at-home STD test providers in the United States.
They provide a fast and convenient way to learn your STD health status without having to visit a clinic, a doctor or a lab.
Instead of asking you to visit a lab, they mail you a sample kit which you use to collect your own blood, urine or cheek swab sample – and then mail it back to them.
So if you feel uncomfortable about visiting a lab – which is required if you use services like STDCheck and STD test Express, a hospital or a free clinic – or if you cannot find a lab near you, then My Lab Box is a great option.
MyLabBox focuses on maintaining your privacy. They ensure your identity and medical information is kept secure in all communications.
Unfortunately, MyLabBox doesn't accept health insurance (in which case, they'd have to notify your insurer).
Their prices are also easy on your wallet, and there are many positive customer reviews that give us the confidence to recommend them to you.
How MyLabBox Differs From Other Providers
While most other STD test providers are walk-in lab tests – meaning you have to visit a lab to get a sample taken – MyLabBox lets you take your own lab sample at home.
This makes the process convenient and extremely private. There is no need to drive anywhere, see a doctor or make an appointment. You can go through the entire process without leaving your home.

At-home lab tests are useful in many practical situations, not just when you don't feel like walking or driving to a lab.
For instance, if someone is disabled, ill or elderly, they may not be able to get to a lab. Or, if you live in a remote location where no walk-in testing services exist.
The ability to receive the kit at home and send the sample in without going anywhere comes in handy.
One other area where MyLab Box stands out is their wide variety of packages.
They offer 13 packages to choose from including our favorite test for loving couples, the Love Box package with test kits for both partners.
Additionally, women over thirty have an option of adding an HPV test to some of the bundles. Most STD testing providers do not offer this.
How to Order an STD/STI Test at MyLabBox.com
The ordering process is pretty much the same as with all other providers.
You first select your preferred package. You can view a list of all packages further below.
The packages include both individual tests and bundled tests.
Unless you are testing for a specific STD, the bundled options are the best. They also save the most money.
You can also select your gender on the homepage of their website, and they will recommend the best STD tests for you.
Unfortunately, they don't offer a questionnaire like most other services to give you personalized recommendations.

Once you make a payment and it is confirmed, you will wait for a mail package to arrive.
The test kit will arrive in discreet packaging, so you don't have to worry about other people at home finding out what it is.
The package will contain a test kit with instructions on how to take a sample. Make sure you follow all the instructions to ensure a quality sample that will produce accurate results.
Mail the collected sample to the address provided and then wait for your results.
The results will not be sent via mail. You will receive an email notifying you that your results are ready.
You then click the link to view the test results in a secure online account.
If you test positive for any STD, MyLabBox.com provides phone consultation with a doctor at no extra charge.
Why MyLabBox Is One of Our Top Picks
They are committed to your privacy. The company takes every precaution to maintain confidentiality. When you use their service, no one except you will be aware of the test. The kit is sent discreetly, and the results are delivered securely.
They are affordable. If you need to save some money, use myLab Box. They have some of the best prices with individual tests going for around $79 and the most comprehensive package of 14 tests costing $369.
At-home tests are the most convenient. I know a lot of things today can be done without getting you off your couch. But getting an STD test is an extreme and a convenient one at that.
Great customer service. Many customers say the customer service is excellent. Their questions were answered, concerns adequately addressed and everything is explained by friendly customer support.
SAVE $10 NOW
MyLabBox.com Review: the Details
Packages and Pricing
MyLabBox.com provides 13 testing options that include single and bundled tests.
The single-disease tests are ideal if you are concerned about a particular STD. For instance, if you are experiencing specific symptoms associated with that STD.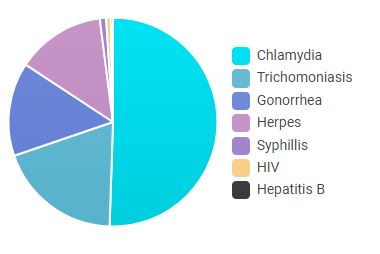 The bundled tests are ideal if you want a more comprehensive sexual health analysis, you are getting tested for the first time or you are worried about recent exposure but do not know the specific STD.
Here are all of their testing packages and prices:
Test Accuracy
Just because you are the one collecting the kit and not a professional in a lab, doesn't mean that the test will be less accurate.
Because the tests are processed in CLIA-certified labs, MayLabBox STD tests are just as accurate as tests taken by a hospital or clinic.
The kits are also certified by a lab affiliate or by the FDA, meaning they can collect and store a sample without compromising its quality. As long as you follow the instructions on collecting a sample, the accuracy is very high.
The company says all their tests are 99.9% accurate.
That's not to mean you cannot get a false positive. If you think you got a mistaken positive test result, schedule another test immediately or consult with your physician.
You can also get a false negative perhaps because the infection has not yet grown to the point of being detected. That's why it is recommended that you re-test after 1 to 12 weeks depending on the STD.
Turnaround Time
Unlike walk-in STD test providers that send your results in a day or two, at-home STD testing services like MyLabBox take longer. For MyLab Box, it takes about 5-11 days from the time you order to see your results.
This is because of the extra time needed to send the kit to you and for you to send the collected sample back to them.
After sending in your sample, you can contact customer support for a status update especially if the results have taken much longer than you expected.
Confidentiality
Every bit of information you enter at myLabBox.com, be it your name, location or payment details, is held securely. No unauthorized person or organization can access it.
However, some states require that certain STDs be reported to the state's department of health. In such a case, your information is held confidentially and in accordance with HIPAA.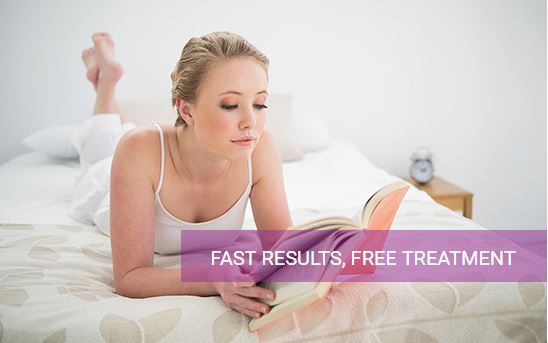 If MyLab Box ever needs to share your information with third parties, they promise to ask for your consent.
MyLab Box also takes other measures to maintain your privacy such as using generic packaging to send you the test kit and providing a return address that does not belong to any of their offices.
You also get your results in a secure online account.
Health Counseling Options
If you test positive, MyLabBox.com has qualified physicians on hand to provide counseling via phone. They will help you understand your test results and decide the best way forward regarding treatment.
Depending on which STD you have tested positive for and your state laws, the doctor can write a prescription for the right medication.
The consultation option is up to you. You can also take the lab results – which are lab-certified – and take them to your own physician for treatment advice.
Collecting Your Sample At Home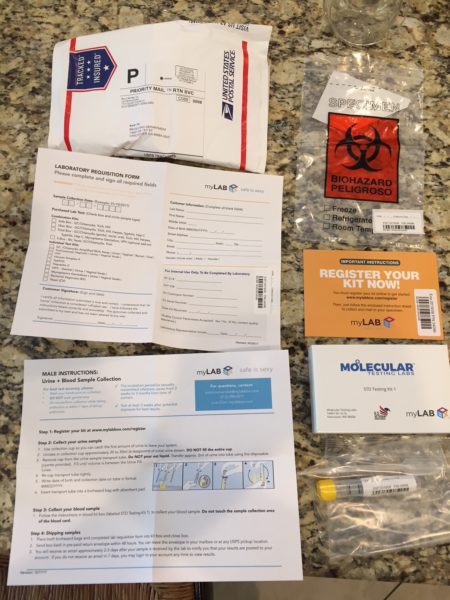 MyLabBox sends you a kit to collect your own sample at home. It can be a urine or blood sample, depending on the STDs you are getting tested for. Sometimes, a cheek swab is all that's needed.
Collecting a sample should take less than 5 minutes without any pain or discomfort. The most important task is to follow the instructions to ensure a quality sample and accurate results.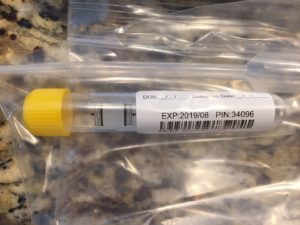 If you need help collecting a sample or if you don't fully understand the instructions, contact myLabBox's excellent customer support.
Payment Options
MyLab Box does not accept health insurance as a payment option. They say it's because they want to maintain complete anonymity for their customers. If they used insurance, they would have to notify your insurer about the test. The test results would also become part of your medical record.
But they do accept many other payment methods including major credit and debit cards and HSA/FSA cards.
See All Payment Options
Guarantees
MyLabBox.com promises to hold your personal and test information in strict confidence. No unauthorized person or organization can access the information. And if they ever need to share your details with a third party, they will request for explicit permission from you.
Frequently Asked Questions
Does myLab Box accept insurance?
No. This is because of confidentiality concerns. But there other payment methods available including credit and debit cards. You can also use your FSA or HSA card although there is no guarantee that it will be accepted.
Can minors use myLabBox services?
No. myLabBox only serves customers who have attained the age of 18 years.
Is it painful to use the sample collection kit?
No.  The blood sample collection involves a simple finger prick and the urine sample collection is painless.
Can I buy someone else a test?
Yes, you can. MyLabBox.com sells gift cards you can buy for your partner, a relative or your child.
Customer Reviews: Praises and Complaints
MyLab Box enjoys a 7/10 Trustpilot rating. A lot of customers say they love this service because of the friendly prices.
Many others praise the convenience and level of privacy offered by the company.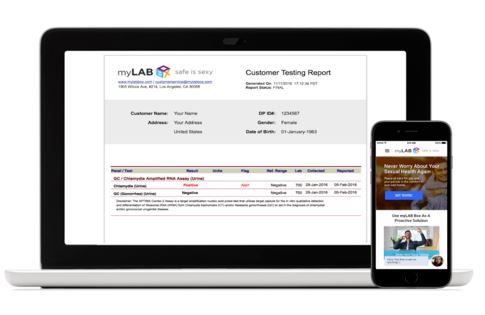 A lot of customers are especially glad that they don't have to go to a lab. They can do everything from home.
The only complaints we've been able to find are about the lengthy turnaround time, which is due to mailing the sample kit to/from your home.
Conclusion
If the thought of visiting a lab or a doctor for an STD test makes you feel uncomfortable, then MyLabBox was created for you.
You can now enjoy full anonymity with the added convenience of not having to go anywhere to get tested.
MyLabBox also let you gift an at-home test kit to your partner, relative or friend to keep them safe. You probably wouldn't want to give anyone a walk-in test.
SAVE $10 NOW