Are you looking for an affordable and anonymous STD test you can take at home?
My Home Tests is a at-home STD testing service that provides anonymous and affordable testing for a wide variety of STDs.
Shop Now
Below is our full review of their services including how they protect their customers' anonymity and how accurate their tests are.
NOTE: MyHomeTests cannot by law ship or sell direct-to-consumer testing in the states of NY, NJ, and RI.
If you want to learn more about home STD kits, see our in-depth online STD testing guide.
Who is My Home Tests?
My Home Tests is an anonymous online STD testing service developed by Molecular Testing Labs, a CAP and CLIA accredited laboratory in Vancouver, Washington.
They use state of the art technology, modern science, and highly qualified staff to carry out tests. Also, they go to great lengths to ensure that their customers enjoy full privacy. It's the main reason they don't accept insurance.
As home STD tests go, all their tests are affordably priced compared to what you would pay for a clinic or a lab.

---
How My Home Tests Differs from Other Providers
Like most at-home and lab-based online STD testing services, My Home Tests strives for complete customer privacy while also providing a convenient hassle-free customer experience. So it's not unique for them for them to provide an anonymous no-paperwork 3-day testing process.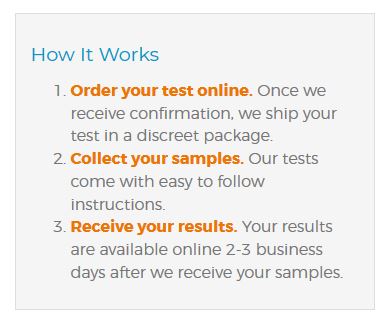 What's different about them is their wide variety of test options. To start with, you can choose from 3 multi-test packages: the standard 7-test package, an advanced 9-test package, a combined advanced + HPV package and a complete 13-test package. These are in addition to the several single tests available including those for mycoplasma genitalium and UreaplasmaUrealyticum.
So whatever your testing needs, My Home Tests has you covered.
Another area where they stand out is their affordability. At-home STD tests are more expensive than lab-based ones. Single tests cost as much as $99. My Home Tests sells their single tests for $79.
As for packages, you'll find most at-home STD testing services charging over $400 for a 7-13 test package. My Home Tests sells their 7-test package for just $249 and their complete 13-test panel for $399.
So if you are looking for a pocket-friendly at-home STD test, My Home Tests is one of the best.
---
How to Order an STD/STI Test with My Home Tests
Visit their official website to order your test.  There are 11 test options listed. Choose a test based on your health needs. For instance, if you are concerned about exposure to a particular STD, get that specific test.
If you are not sure which STD you might have, cast a wide net with the 7, 9, 10 or 13-test panels. The multi-test panels are also ideal if you are getting an STD test for the first time or you want an update on your sexual health.
We also recommend the combined packages for couples and partners who want to learn about their sexual health status.
Once you find your preferred option, click on it to learn more.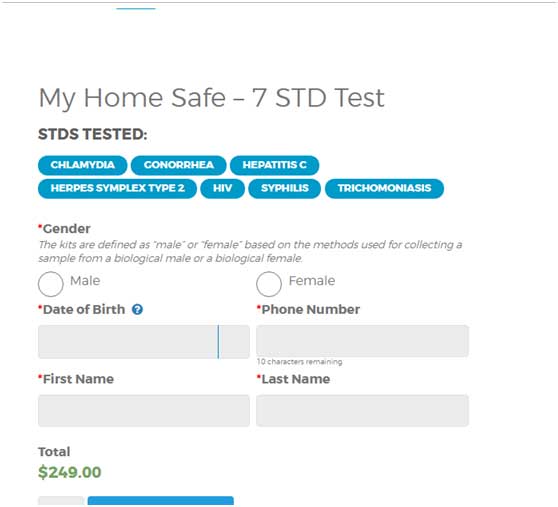 On the product page, you will see more details about the test including the number of single tests contained in it (if it is a multi-test package). You'll also be asked to provide your gender, name, date of birth and contact details. After filling all that out, you can place your order.
This is an at-home test meaning you collect the sample yourself rather than going to a lab. After paying for your order, My Home Tests will send you a package containing the sample collection kit. But don't worry, they'll be discreet. No one will know what it contains.
There are different kits for males and females. That's why they ask your gender when you are placing an order. For women, a vaginal swab and blood sample are required. For men, you'll need to provide a urine and blood sample.
You'll find all the instructions on the kit. It is extremely important that you collect the sample and secure it properly. Otherwise, it could produce faulty results. Contact customers support if you don't understand something.
When you have secured the sample, seal it in the included prepaid FedEx packaging. The return mailer is for overnight shipping to ensure the sample gets back to the lab as quickly as possible.
After sending the sample back, wait for the results. They take 3-7 days. You'll receive an email with a link to your private account on myhometests.com.
If you are worried about someone else seeing the results, you can delete them after viewing.
A couple of things to take note of:
My Home Tests does not accept insurance. Use traditional credit card payment to finish placing your order.
There are no special preparations you need to take for the tests. The only requirements are to avoid taking a sample when you are taking antibiotics or within seven days of taking antibiotics, when you are menstruating and within 24 hours of having sexual intercourse. Otherwise, you don't need to fast or abstain from drinking water or using the toilet.
My Home Tests does not provide after-test counseling. If you test positive, turn to your healthcare provider for guidance.
---
Why My Home Tests Is One of Our Top Picks
Affordable prices.Compared to other at-home STD tests, My Home Tests is one of the cheapest yet still very comprehensive. You save money whether you want a single test or a multi-test panel.It's even more affordable when you compare it to traditional clinic and lab visits for STD testing.
Wide variety of tests.They offer a wide variety of individual STD tests plus several convenient packages that bundle the most common STD tests. So whether you want to find out whether you have chlamydia or you want to cover all possibilities, My Home Tests is great.
Full anonymity. You can enjoy full privacy when using their services. Their website is secure, the sample package is sent discreetly, your results are not sent via mail or even email, and you can delete your results anytime you want. The fact that you don't have to go to a lab ensures complete anonymity.
Convenience. Unlike lab-based online STD tests, you don't have to visit a lab to provide a testing sample. You do everything at home. This is especially beneficial for those who can't get out of home for one reason or another.
Quick turnaround. While at-home STD testing takes longer, My Home Tests strive for quick turnarounds. They provide an overnight prepaid return mailer and ensure your results are ready in 2-3 business days.
---
My Home Tests: The Details
Packages and Pricing
Here are all the tests and packages that My Home Tests sell. See their official website for the latest prices.
 Single Tests
Chlamydia & Gonorrhea Test- $79
Hepatitis C – $79
HIV – $79
HPV – $79
Mycoplasma &Ureaplasma – $99

Packages
My Home Safe 7 STD Test – $249
My Home Advanced 9 STD Test – $325
My Home Advanced + HPV 10 STD Test – $349
My Home Complete 13 STD Test – $399
Trichomoniasis – $79
Shop NOW
Test Accuracy
Molecular Testing Labs, where the testing takes place, is accredited by the CAP (College of American Pathologists) and the CLIA (Clinical Laboratory Improvement Amendments).

These two accreditations hold them to a very high standard when it comes to handling human samples.
Also, Molecular Testing Labs uses modern testing technologies including enzyme-linked immunosorbent assay (ELISA) and Transcription mediated amplification (TMA).
Essentially, you get the exact rigorous test you'd get at a clinic. While false results are always a possibility (especially with at-home tests because of sample self-collection), their chances are very low.
But that doesn't mean that you rest easy once you have gotten a negative test or panic if you have a positive test. If it's positive talk to your doctor and plan for a confirmation test at a clinic or lab. If it's negative, retest again after a few months.
Turnaround Time
One of the biggest advantages of lab-based online tests is that you can get your results in in just two days and sometimes the same day.
With at-home tests like My Home Tests, it takes longer. This is because the sample kit has to be sent to you, which could take a few days. Then you have to send the sample back for testing.
The entire process could take a week or even two.
But My Home Tests strives to be as quick as possible while still ensuring high testing accuracy. They provide overnight return shipping, and once they have the sample, you'll have your results in 2-3 days. In a few cases, it could take seven days.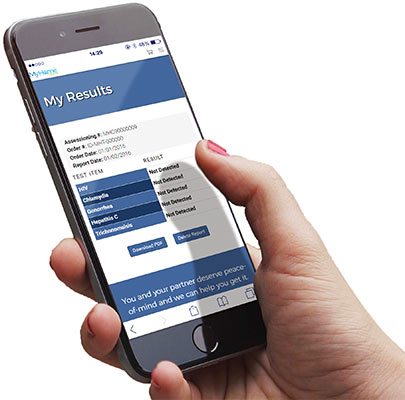 You can always call them to ask for an update on your test results.
Confidentiality
My Home Tests provides full confidentiality and privacy to their customers.
Their website is secured using SSL technology to ensure your personal and payment details are protected.
Throughout the whole process, they adhere to HIPAA regulations regarding handling and storage of your medical data. Your samples are identified using a barcode rather than your name and the results are made available to you only. They are not shared with any insurance company or health provider.
The only exception is in states that require certain positive tests be reported for statistical purposes.
They take care to send you the sample kit discreetly with no obvious identification outside of what it contains. The return mailer is just as discreet.
Once your results are ready, they are posted to your secure personal account that you created when ordering. This is a much more secure method than sending you a mail or an email.
The best part is that you can delete the results any time you want if you are concerned that someone might see them.
Health Counseling Options
My Home Tests does not provide any health counseling options at the moment.
It is common for an STD test provider to make available a medical professional for customers who test positive. You can ask questions about treatment and in some cases even get a prescription.
It could be that My Home Tests is still too new and they will offer a health counseling option with time.
Providing Your Sample
My Home Tests provides at-home STD testing. That means you don't need to go to a lab to provide a sample. You take your sample from the comfort and privacy of your home.
Collecting a sample is easy and takes less than 10 minutes. Each kit comes with clear and detailed instructions to help you do it right.
After collecting a sample, secure it and place it in the prepaid return mailer and post it.
Payment Options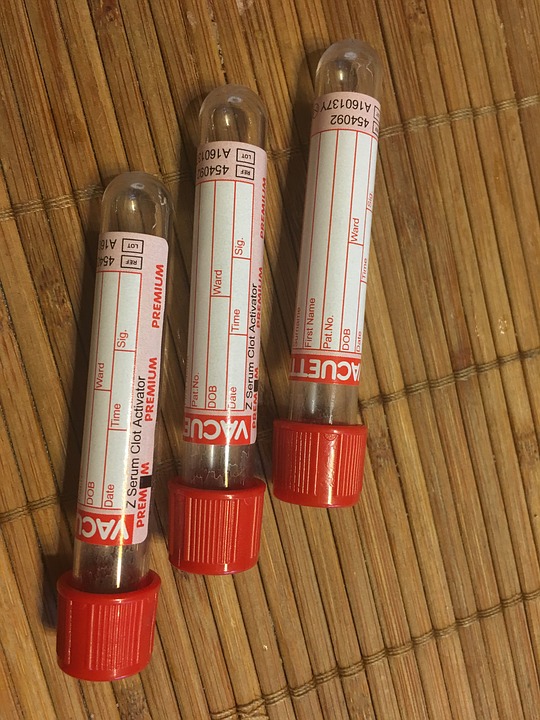 My Home Tests does not accept insurance because of privacy concerns. If you paid via insurance, they would have to inform your insurance company of the test you took.
They also don't accept HSA and FSA cards. You can only pay through major credit cards.
Guarantees
My Home Tests guarantees complete privacy and anonymity for their customers.
Your information, personal or medical, will not be shared with anyone except in cases where a law requires it. Not even your doctor or partner will know that you took an STD or how it turned out.
---
Frequently Asked Questions
Does My Home Tests accept insurance?
No, they do not because of privacy concerns.
What's the minimum age limit for taking an STD test with My Home Tests?
You must be at least 18 years old to order an STD test.
How long will the results take to arrive?
After sending back your sample, it takes between 2 and three days though in some cases it could take slightly longer.
How will I receive my results?
You'll get an email with a link to your private account on myhometests.com where the results are posted.
Can I order an STD test as a gift for someone else?
They currently don't have that option. But it may be available in the future.
---
Customer Reviews: Praises and Complaints
We couldn't find any online customer reviews for My Home Tests. It's a new service.
---
Conclusion
If you don't want to have to go to a clinic or lab to get tested for an STD or give a sample, My Home Tests is a great option. They are affordable, provide a wide variety of STD tests and don't joke around when it comes to protecting your privacy.
Shop NOW