While home and online anonymous STD testing services have led to more people getting tested, STD rates keep going up.
Local health departments in cities and counties across the United States are grappling with more cases at the same time that funding for preventive programs is getting axed.
In Milwaukee, Wisconsin for example, 2017 saw a significant increase of several STDs from 2016: 17% increase in the HIV cases, 29% increase in syphilis and 12% more gonorrhea cases.
At Beaver County, Pennsylvania there was a 35% increase in Gonorrhea cases, 12.5% in syphilis cases and 7 more new cases of HIV from 2016 to 2017.
In Blue Earth County, Minnesota chlamydia cases rose from 555 per 100,000 in 2016 people to 634 in 2017.
These statistics mirror what is happening nationally.
In their latest surveillance report, the CDC paints a grim picture of the state of STDs in the US. There were more STD cases in the country than at any other time ever. More than two million cases were reported in 2016. Here are the nationwide stats for the 3 most common STDs.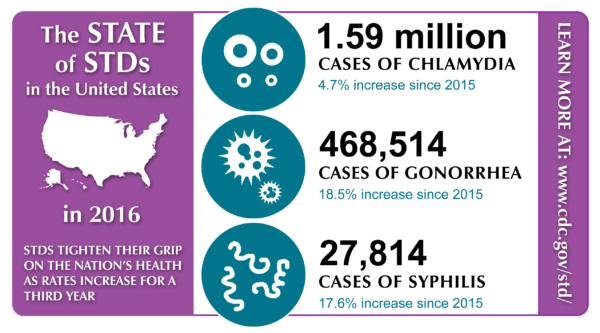 Dr. Jonathan Mermin, a director at CDC made clear the level of threat this surge represents. "Increases in STDs are a clear warning of a growing threat," he said in statement. "STDs are a persistent enemy, growing in number, and outpacing our ability to respond."
Worst Hit States
While the surge has generally affected almost all states, some have been hit worse than others.
Note: I have taken this data from CDC's STD surveillance report (pdf) for the year 2016. Data for 2017 and 2018 is not yet available. But recent data from many local health departments shows that things have only gotten worse.
Alaska seems to be especially hard hit by the rise in STD cases.
It has the most cases of Chlamydia (almost 6,000). The state is number 4 in gonorrhea occurrence with a rate of 196.9 per 100,000 people (31% increase from 2015).
But at least there has been a significant reduction in the number of reported syphilis cases from 40 cases in 2014 to just 20 in 2016.
California is also not doing too well. It ranks second in congenital syphilis, one of the most severe STDs. In 2016 there were 206 cases of newborns with the infection. California is also among the top states in primary and secondary syphilis with almost 6,000 cases reported in 2016.
They rank 14th in Gonorrhea and 20 in chlamydia. In all reported STD cases, California had a higher rate than the average national rate.
Here are more state highlights from the report.
Mississippi leads in Gonorrhea cases and Louisiana leads in primary and secondary syphilis as well as in congenital syphilis. Louisiana is also second in the number of reported Chlamydia and gonorrhea infections.
Georgia ranks high for gonorrhea and chlamydia.
Other states with high rates of different STDs include North Carolina, South Carolina and Maryland.
Some of the safest states are Vermont, New Hampshire, Utah and Wyoming.
What's Causing This Surge?
There are many contributing factors involved. Many local health departments are spending less on prevention programs because of budget cutbacks. More health clinics, which are often on the forefront of prevention efforts, are also closing.
But one of the biggest factors seems to be sexual education or lack thereof. Most of the STD cases are in people under 30. According to the CDC, half of new STD cases are often in young people aged between 15 and 24 years.
This points to inadequate sexual education in schools and colleges.
Take teen pregnancies for example. They have fallen in the last few decades in many developed countries, including the US. But the US still has one of the highest rates of teen pregnancies among developed nations.
How to Protect Yourself
If you are sexually active, the first thing is to get tested. Know your status. You don't have to go to a clinic. There are several anonymous STD testing services you can use from the comfort of your home.
Then make sure you practice safe sex. If you have multiple sexual partners, use a condom every time. Alternatively, practice mutual monogamy with your partner.
US STD Rates are Surging. Here Are The States That are Struggling the Most