Are you worried about finding a walk-in STD clinic near you? You should not stress since STDCheck's New Walk-in Clinic Finder Tool is designed to satisfy your requirements. The new tool is a brainchild of STDCheck.com, a trusted online provider of confidential testing services for sexually transmitted diseases.
If you want to learn about your STD status, you can order the test online then visit the lab near you for testing. When you visit the lab, you use a private code and never divulge your identity. You can also get your results securely online, and the whole process is highly confidential.
STDCheck is the most convenient service provider since it has the most significant number of walk-in testing centers among other online STD providers. As such, STDCheck recently introduced a new tool that can help you find a walk-in STD clinic near you.
How The New Walk-In Clinic Finder Tool Works?
To start using the new STDCheck's New Walk-In Clinic Finder tool, you must visit its official website and click "Find a Lab" this will take you to a new page of STD Test Centers. You do not need to be a registered member to access the organization's website. The only thing you should do is to access the internet. The search tool is easy to use since you can do everything online in the comfort of your home.
You can use this online tool to find the STD testing labs by city & state or zip code. When you hit your desired state, it becomes easier for you to fine tune the search process to identify labs within your area. You can choose your desired location from more than 4,500 test centers across the whole country. All STD test centers in Washington are CLIA-certified.
The other thing you should know is that the STD test center does not accept payment. You should first place your order then pay online or over the phone before visiting any testing center. In other words, you should make payments direct to STDCheck instead of testing centers. You will get your results via email between one and two days.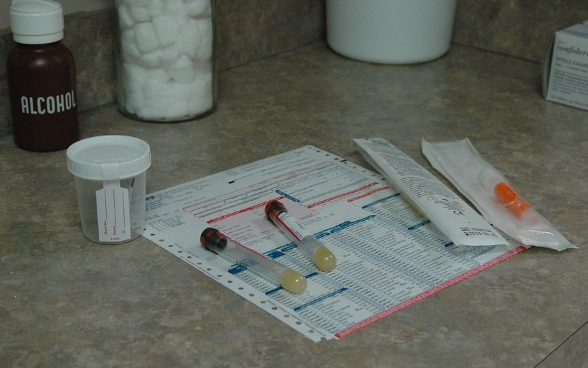 Types Of Tests STDCheck.com Offers
STDCheck.com provides convenient and confidential testing services for ten different kinds of STDs.  These include the following:
Hepatitis A,
Hepatitis B,
Hepatitis C,
Herpes 1,
Herpes 2,
HIV 1&2,
Syphilis,
Chlamydia,
Gonorrhea,
HIV RNA Early Detection
It is also the only service provider that offers testing in Hepatitis A. the notable aspect about STDCheck.com is that all HIV and STD tests are FDA approved.
You can also get FDA approved HIV RNA for early detection testing. This particular test is vital since it helps to detect any HIV infection in about nine to eleven days after exposure. The other thing is that if you want to order a test online, you should be at least 18 years and above.

Pros and cons of Walk-In Clinics
Walk-in clinics consist of urgent care clinic, online lab test clinics as well as free clinics and these offer STD testing services. Walk-in clinics have several advantages that outweigh the disadvantages in various ways. Some of the benefits of these institutions include the following:
The test takes about ten minutes or less meaning that you do not spend a lot of time in the lab. The other element is that the test is easy to perform. In most cases, it may only require a saliva swab or blood sample in some instances.
Commitment to privacy: the company is committed to a high degree of privacy, and it does not share client information with third parties.
STDCheck.com offer the best value given that its services are affordable. The STD test is also convenient since the company has more than 4500 testing centers. You can visit any nearest lab in your area.
The other benefit is that the results are easy to read such that you do not need an interpreter. The company sends the outcomes between one or two days via email.
Clients can also get counseling services any time during the days for the whole week. The company also offers excellent customer services and aims to satisfy the needs of the clients always. Other testing centers open on Saturday so you may order a test during the weekend.
The only notable disadvantage of STDCheck.com is that it does not accept insurance as a payment method. However, it has a variety of other payment options.
Find a Walk-In STD Clinic Near You Using This New Tool (Anonymously)