Do you need to get tested for an STD – but want to do it at home?
You've come to the right place!
What's In This Guide?
On this page we review four of the best at-home STD tests available online: STDRapidTestKits, OraQuick, MyLabBox.com and PrivateiDNA.com.
We will explain how these tests work and their pros and cons compared with other STD test options.
We also offer a few tips on where to buy the best at-home STD tests and how to buy the right one for your needs.
---
The Four Best At-Home STD Tests Compared
The following STD tests are the best at-home options selling today, in our opinion. 
NOTE: rotate your phone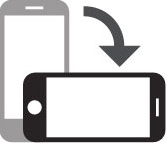 for best viewing.
Touch a test name to learn more. 
Brand
Price
Anonymity
Accuracy
Best For
MyLabBox.com


Save $10

$$
Discreet packaging.
99%
Our Top Pick. Best Home-based STD test in the business.
STDRapidTestKit.com
$$
Discreet packaging.
99%
Quick result - in 20 mins or less.
OraQuick
$$
Discreet packaging.
Fake name used.
99%
Painless HIV testing - no needle involved.
PrivateiDNA.com
$$
Discreet packaging.
Uses number instead of your name.
99%
Unique situations.
---
Two Types of At-Home STD Tests
If you don't want to deal with the hassle and lack of anonymity of going to a lab or visiting a clinic, then buying a home STD test is a great idea. All at-home STD tests reviewed on this page provide accurate and anonymous STD/STI tests in your home.
But at-home STD testing services do their jobs differently. Some give you immediate results, while others require that you take a sample and send it back for lab testing.
With both types of test, there is no need to visit a lab or a clinic.  The only difference is where the test is done and how you get results.
1. At-Home STD Test Kits (Immediate Results)
These are the easiest and most convenient at-home STD tests. There is no lab involved in the process, so you don't have to take a sample and then send it back to a lab. Eve better, you'll have your result in a few minutes.
When you purchase an at-home STD Test Kit, it will include special strips or a cassette designed to test for a particular STD quickly.
You can buy a kit for a single test or several to test for multiple STDs. It all depends on your needs.

The test kit will come with instructions on how to take the test. In most cases, it involves pricking your finger to get a blood sample.
Because the onus is on you to take a quality sample, it is extremely important to follow the manufacturer's instructions to avoid a false test result.
2. Lab-Based At-Home STD Tests (Delayed Results)
Lab-based STD tests are still handled within your home, but there is an extra step involved.
Instead of getting an immediate result from a cassette or test strip, you'll have to mail the sample to a lab for testing.
When you order a lab-based test online, you will be mailed a sample-collection kit.
Depending on which STD you are testing for, you may be asked to collect a saliva, blood, urine or swab sample.
As with quick at-home tests, it is important that you follow the manufacturer's instructions to maintain the integrity of the sample.
The sample collection kit will usually come with a pre-paid envelope to send the sample back in.
You'll then wait several days to access your test results online.
---
STD Rapid Test Kits is a no-lab online-based STD testing service.
They sell kits for seven different STDs including gonorrhea, syphilis, chlamydia, and HIV.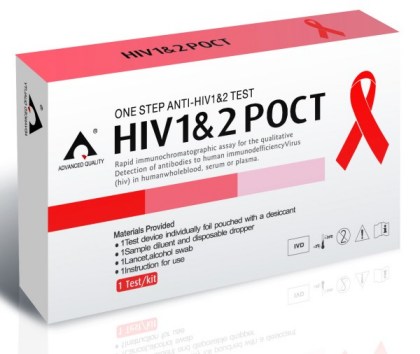 Each order comes with a complete sample collection kit and a testing kit.
Most of the tests come with a tool for pricking your finger, a blood buffer for mixing with the sample and a cassette to test the sample.
STD Rapid Test Kits take less than 15 minutes to get your result.
All Rapid Test Kits are certified under ISO 13485 and are recognized by WHO, USAID, the EU Commission and the FDA.
According to the company the tests are 99% accurate.
As long as you follow the instructions, the chances of a false positive or negative are rare.
Here are the test kits you can buy and their prices:
Chlamydia (sample required – swab)- $29
Gonorrhea (sample required – swab) – $29
Herpes-2 (sample required – blood) – $29
Hepatitis -B (sample required – blood) – $29
Hepatitis-C (sample required – blood) – $29
HIV 1 & 2 (sample required – blood or oral swab) – $29
Syphilis (sample required – blood) – $29
If you want to test for multiple STDs, there are combo packs available. They'll save you money compared to buying each test you need individually. Here are the combo tests:
Chlamydia and gonorrhea – $58 (currently $49)
Chlamydia, gonorrhea and syphilis – $87 (currently $69)
Hepatitis B and Hepatitis C – $58 (currently $49)
All tests – $203 (currently $99)
The shipping fee for each test is $15. They ship in the US and abroad.
The kit is shipped to you in discreet packaging to protect your privacy.
Shop Now & Save
---
Best Quick HIV Test: OraQuick
OraQuick is an FDA-approved oral test kit for HIV 1 and 2.
Instead of the standard blood test used by most at-home HIV test kits, OraQuick use an oral/mouth swab.
So if you hate needles, this is the test to get. Unfortunately, it's only for HIV. They do not provide kits for gonorrhea, chlamydia or syphilis.
Ordering OraQuick Online
The first step is to order the kit, which is available on their official website for $39.99 and in several retail stores. We recommend you buy from the official site, because they offer slightly better customer support. 
Amazon.com also sells OraQuick HIV test kits, often at a lower price.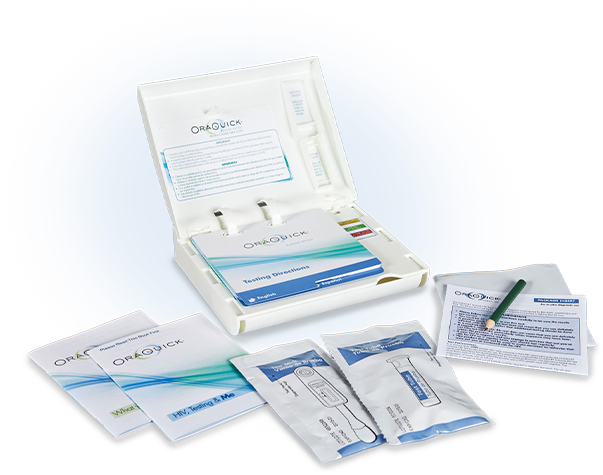 Once you place an order, your OraQuick HIV test kit will arrive in 5 to 10 business days – or sooner if you choose the expedited shipping option.
Shipping is available to customers in the continental USA, Alaska, and Hawaii.
The kit will arrive in a brown unmarked envelop, and the credit card transaction will display a generic name. This is to preserve your privacy.
Taking The Sample
OraQuick's kit come with clear instructions on how to get a good mouth swap sample. It is important that you do not eat or drink anything or use mouthwash, half an hour before the test.
Though it uses an oral swab, the kit does not test your saliva. Instead, it tests oral fluid found on your gums for the presence of HIV-fighting antibodies.
Results In Just 20 Minutes
Once you take the swab, insert it into the test tube and follow the instructions in the guidebook to read your results.
It takes 20 minutes for results to be ready.
OraQuick advises that this test kit should not serve as your final and only HIV test.
If you test negative, it doesn't mean you are free from HIV with a 100% certainty. You may have been exposed recently, for example, and the antibodies may be too few to detect.
If you test negative, take another test after three months to be sure.
If you test positive, then visit your doctor or a clinic and get a lab-based test to confirm the results.
Buy an OraQuick HIV Test Now on Amazon.com
---
Best Lab-Based STD Test: MyLabBox.com
MyLabBox.com is also an at-home test like OraQuick and STD Rapid Test Kits.
The main difference is that you do not do the testing yourself. Instead, you take a sample and mail it to a lab.
Ordering a Test From MyLabBox.com
When you order from MyLabBox.com, you'll receive a sample collection kit – but not a testing kit.
The type of sample required will depend on the type of STD you are testing for. Some require a blood sample while others need a mouth swab or urine.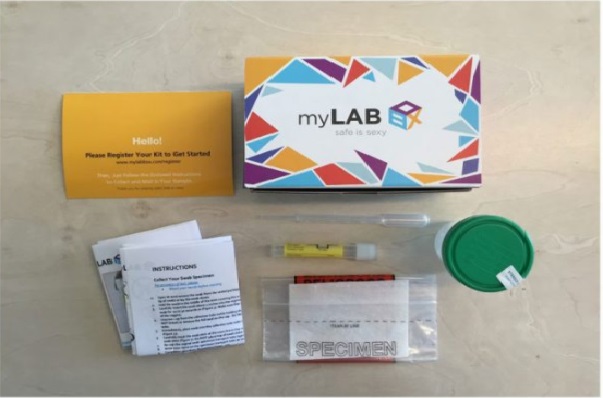 Because the tests are performed in a lab, MyLabBox.com offers more tests than the other quick at-home STD testing options.
Listed below are their packages and pricing. They offer both individual tests and bundled packs.
Trichomoniasis – $79
HIV – $79
Genital Herpes – $79
Syphilis – $79
Hepatitis C – $79
Chlamydia & Gonorrhea – $79
Chlamydia & Gonorrhea 3-site test – $179
Mycoplasma Genitalium – $79
HPV (for women over the age of 30) – $79
Four tests panel (Safe Box package) – $189. Tests for Gonorrhea, Chlamydia, HIV, and Trichomoniasis.
8 tests panel (Uber Box package) – $269. Tests for HIV Type 1 & 2, Herpes type 2, Hepatitis C, Gonorrhea, Chlamydia, syphilis, and Trichomoniasis.
14 tests panel (Total Box package) – $369 – $399. A full panel for the most common STDs.
Eight tests panel for couples (Love Box package) – $499. Separate kits for straight or gay partners.
The main downside with MyLabBox.com is that it takes longer to get your test results. You'll have to wait 2 to 8 days for results after you mail the sample back.
If you test positive, MyLabBox.com offers free health consultation; in some cases, they can even write you a prescription.
SAVE $10 NOW
---
Most Flexible AT-Home STD Test: PrivateiDNA
PrivateiDNA works exactly like MyLabBox.com. You order a test online, take your test sample at home and mail it back for testing.
Like MyLabBox, can test for many more diseases than you can using a quick at-home test kit.
One of the advantages PrivateiDNA has over MyLabBox.com is their flexibility.
PrivateiDNA lets you create a customized test package to meet your specific situation and disease exposure.
They also offer packages for those who want to make a quick order, including:
Basic – $149. Tests for chlamydia, gonorrhea, and Trichomoniasis.
Standard – $249. Basic tests plus HIV 1 & 2, syphilis, herpes 2 and hepatitis C.
Complete – $399. Standard tests plus HPV, mycoplasma and ureaplasma.
If none of these packages fits your needs, then you can create a custom package from their individual tests.
There are ten single-disease tests costing $79 each – except for Trichomoniasis, herpes 2 and hepatitis C, which cost $99 each.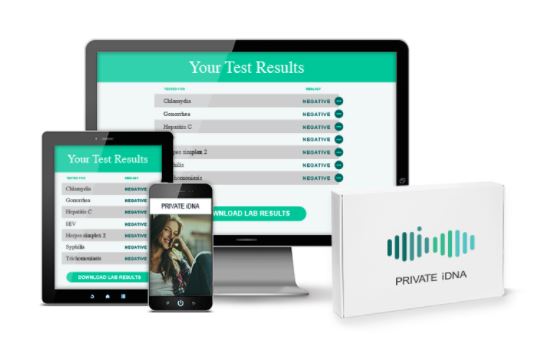 All PrivateiDNA's test kits are FDA-approved and testing is done in CLIA-certified and HIPAA-compliant labs.
For privacy, the kits arrive in generic mail packaging with no business name on the front.
The return address is to a fulfillment center, not to a lab.
Once you mail the sample back, results take between 2 and seven days.
You will be notified when they are ready, and you can access results in your secure online account.
Extreme Privacy
One thing I really like about PrivateiDNA is how they handle your privacy.
For one, they comply with all HIPAA regulations, ensuring your data is handled safely.
Second, throughout the testing process you are identified by a random number. Your name and email are only used for payments and to allow you to receive your results.
Additionally, you own your results and you can delete your results from your secure online account at any time.
I've yet to find any other at-home or lab testing service that offers this important option.
Shop Now & Save
---
Pros and Cons of At-Home STD Tests
Pros
Privacy. This is the biggest advantage of at-home STD tests. You don't have to go to a lab, talk to a doctor or visit a clinic. So if you are afraid of someone finding out that you are getting tested or you are feeling awkward with talking to a doctor about your symptoms, at-home tests are great. Many at-home STD testing services go to great lengths to maintain your privacy including using unmarked packages and using generic transaction names.
Convenience. You can take an STD test from the comfort and privacy of your home. This is especially convenient for those who cannot travel either because of age, disability or illness. It's also great if you have a busy schedule. Instead of making appointments to go to a clinic or lab, you do everything from home.
Accuracy. At-home STD tests are usually just as accurate as clinic tests. Most services use FDA-approved kits and certified labs (for lab tests). The risk of a false positive or negative is small.
No mandatory counseling. Many clinics, especially those that offer free or subsidized testing, have mandatory counseling policies. With at-home tests, counseling is up to you. If you test positive, you can talk to your doctor. Some services also have doctors available for the advice you if you want.
Cons
Increased chance of a faulty test. Because you are taking the sample yourself and in the case of quick at-home tests, testing it yourself, there is a higher risk of doing something wrong. Maybe you took the sample wrong or packed it incorrectly.
No medical counseling. While the lack of mandatory counseling could be an advantage to some people, it can also be a downside for those who need it. You usually have to make an appointment with your doctor if you test positive to get treatment guidance. Clinics and hospitals usually provide this advice at no extra charge if you get tested there.
Note: If you want medical counseling, choose an STD testing service such as MyLabBox.com that provides it if you test positive. Some will even write you a prescription depending on which state you are in.
---
Where To Buy an At-Home STD Test
I highly recommend that you buy a test kit on the company's official website. Don't buy from a mass retailer such as Amazon or Wal-Mart.
If you buy from a retailer like Amazon, you won't have the same guarantee of privacy. That will depend on the vendor you actually purchase from – which may NOT be Amazon.
Buying directly from your testing service ensures that your confidentiality is protected under their written privacy policy.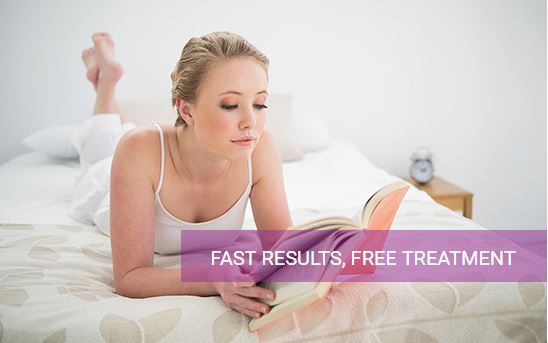 The second issue with buying from a retailer or a marketplace like Amazon is that you cannot be 100% sure of the quality of the test kit.  This is especially true if it's being sold by another merchant and not the original manufacturer. A outdated or repackaged kit may impact the quality and accuracy of the test.
Finally, retailers like Walmart and Amazon do not offer medical advice if you test positive.
When you buy directly from the test provider you often get free medical counseling.  At the very least, the test provider's customer service will be able answer your test-related questions better.
---
What To Consider Before Buying
What disease do you need to be tested for? If you just want a quick test for a common single STD, then a quick at-home test is great. If you want to test for more STDs, I recommend at-home lab tests.
Is this your first time getting an STD test? If it is, then order a comprehensive testing package with tests for the most common STDs. This will give you a better understanding of your sexual health.
What's your budget? Quick at-home tests are cheaper, with a single test costing as low as $29. At-home lab tests start at around $60 and can be as high as $100 for just one test.
Are you worried about recent exposure? If you are worried about recent exposure to a specific STD, then buy a single-test kit. But I advise you get a comprehensive package for peace of mind. Most services offer bundled packages containing tests for common STDs.
Do you want medical advice or help, if you test positive? If you do, then choose a service that offers optional counseling if you get a positive test.
---
Emerging Options
As medical technology advances, we expect to see at-home STD testing continue to grow in popularity.
Part of this growth will simply be due to the population at-large being trained to buy everything online and the convenience of getting tested at home.
Right now, only a few STDs can be tested using quick at-home test kits. But new technologies like chip-based DNA testing and telemedicine will soon increase your at-home options. Very soon you'll be able test yourself for almost any STD in less than half an hour without visiting a lab or a clinic.
Combined with emerging telemedicine services, we won't have to visit a hospital – even if the test is positive.  We'll be able to consult doctors online and get all the medical advice and prescriptions we need.
It's hard to argue with that level of convenience, test accuracy and timely results.  Especially for the price!
---