How To Get STD Tested in Denver Without Visiting A Doctor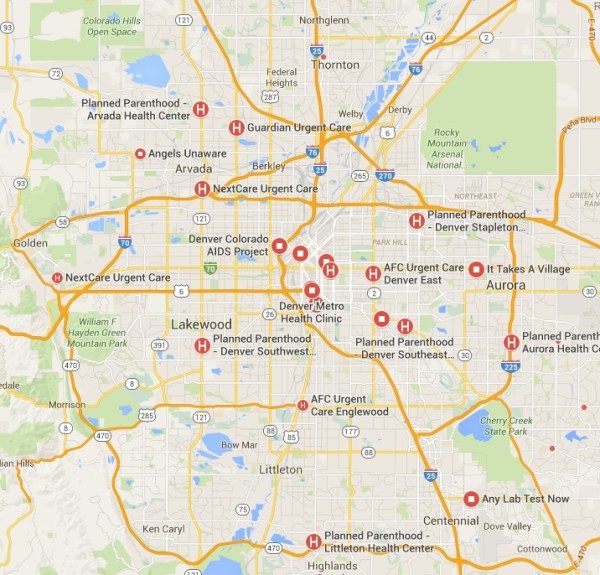 Sexually active with multiple partners? Is your partner?
Then you should get tested for STD – regularly.
The good news is that Denver citizens no longer have to visit a doctor or a hospital to get an STD test.
You can now use a home STD test kit, buy an online lab test or opt for testing at a free clinic.
With the newer STD tests available online, getting tested doesn't cost as much as it used to. And you can retain your privacy.
Compared in the table below are three cheaper ways to get a STD test in Denver without having to go to a doctor.
As you can see, all of them will save you money, and two of them are 100% confidential.
Reading this on a mobile phone?
Take our 60-second quiz to find the right STD test for your needs and budget:

mobile-friendly
100% anonymous
no strings attached
we don't want your email

4 Types of STD Tests Compared
The rest of this page reviews the pros and cons of each STD testing method and explains how & where to get tested.
Good luck on your test!
---
1. Home STD Test Kits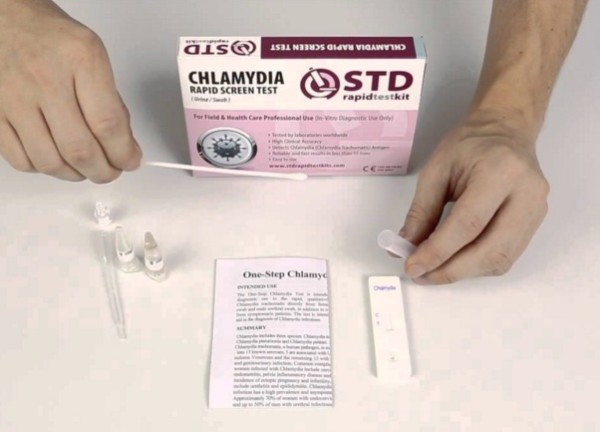 If you are looking for a cheap and super convenient way to get an STD test, it's hard to beat using a home STD test kit.
Getting STD tested with a home test kit is as easy as ordering a kit online, sending back your sample and waiting for the results from the comfort of your home. For some urine-based tests, the results are immediate.
Home testing is a also good option if you are uncomfortable about going to a doctor and want to maintain your privacy.
Pros
Anonymity 
A home test kit is 100% confidential. You can keep your identity a secret, ensuring that no one is aware you are taking an STD test.
Affordable
Home test kits are extremely affordable. You can purchase a home STD kit for as little as $50. The price will increase if you want to screen for more than one STD.
Convenient
The whole process can be completed without having to step out of your home.
That said, home test kits do have drawbacks.
Cons
Unreliable results
The FDA does not recommend the use of home STD tests citing their high chance of unreliability.
They recommend that you seek out a doctor's opinion or get a more reliable secondary test, if you get a positive result on a home test.
Lack of counseling
If you get an inconclusive or positive result and need expert guidance, then you are out of luck, because most home STD test providers do not offer counseling.
Where To Buy A Home STD Test
I recommend buying your at-home STD test online from Amazon.com. Most local drugstores carry some home test kits, but the selection on Amazon is the best.
---
2. Online Test Labs in Denver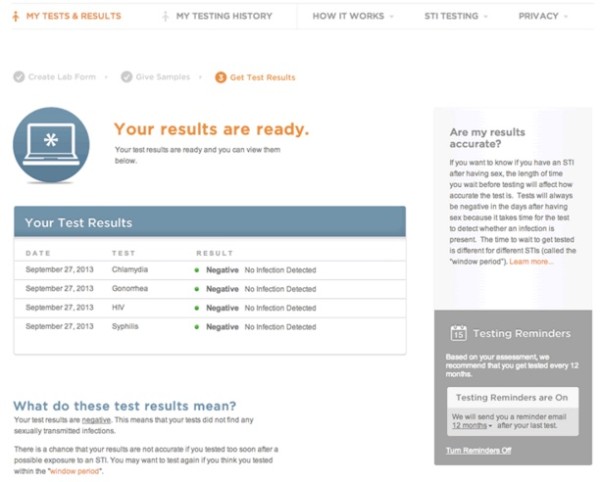 Another option for those who would like the assurance of accuracy is online STD test labs.
If the thought of getting an inaccurate reading from a home STD test bothers you, then check out the new online test labs in Denver.
Online STD test labs have grown very quickly due to the many benefits they provide and the fact they cost less than a doctor's visit or a visit to the hospital.
Pros
Affordable
This option may bit a bit more expensive than home testing, but it is still far below what you would pay to see a doctor. Some providers will even offer to bill your insurance company for the expense.
Convenient
The testing process is easy, straightforward and quick.  The sampling takes about 5 minutes, and you don't have to wait in a long line like you do at a Free STD clinic. Your STD test results are available online when ready.
Confidential
With online test labs, you never have to worry about keeping your information private. Online labs use a special code to identify you for taking a sample and reporting test results online.
Reliable
Online test labs use the exact same processes and equipment as a hospital lab, so your results are equally accurate.
Counseling Is Provided (optional)
Most providers of online lab testing give clients the option of receiving counseling from a trained health professional.
Cons
The added cost is the only downside of online test labs in Denver.
Normally, a single-disease STD/STI test costs about $100.  The cost will be higher if you need a range of tests, but usually never more than $300.
How An Online STD Test Works
The testing process is quite simple.
The first step is to find the right provider. I have recommended two good ones below.
You will pay for the test online, after which you will be directed to a local lab to give a sample.
The only identification you will provide to the lab is a unique code, not your name.
The results take around 2 to 3 days, but some providers offer a one-day rush at a fee.
This diagram below explains how the entire process works.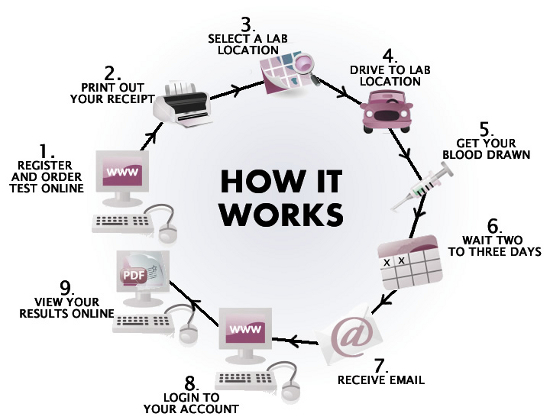 Where To Buy an Online STD Test
The largest online STD test lab in the United States is STDCheck:

Visit STDCheck.com NOW & Save $10

more than 4,000 locations in the US
process is quick and easy.
mobile-friendly
---
3. Free STD Testing in Denver, CO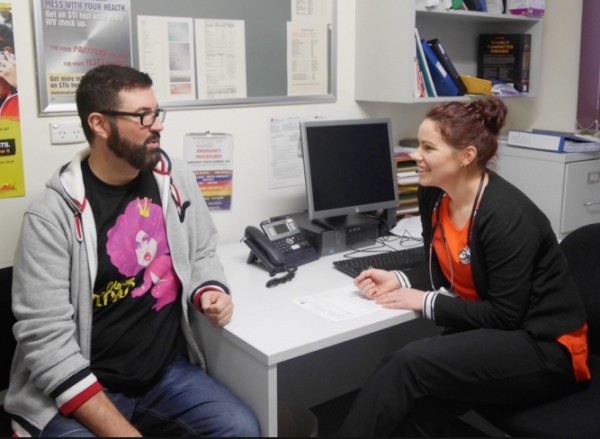 If your budget is really tight or if you would rather get tested at a clinic, try one of the several free STD testing clinics located in the Denver metropolitan area.
Though most free clinics do not provide anonymity, they do provide lab-quality accurate results.
They also provide professional counseling.
In fact, most free clinics REQUIRE that you attend counseling (not anonymous, either).
Contact Denver Public Health to find out more about Free STD Test Clinic services in the Denver metro area.
Denver Public Health
Address: 605 Bannock St, Denver, Colorado
Phone: (303) 602-3540
Email: [email protected]
Note: this clinic is open from Monday to Friday from 7.45am to 4pm. Testing is on a first come / first served basis.
---
Facts About STDs in Denver, CO
Being a large city, Denver has significant STD disease issues
Rates of STD Infection in Denver, CO (vs. US Average)

Chlamydia
Chlamydia impacted 494.8 per 100,000 of the population in 2014, which is a slight increase in the infection rate of Chlamydia within the Denver metropolitan area compared to 2013.
The previous year's infection rate was 449.7 per 100,000.
Denver's 2014 rate was far higher than that of the US average, which was 423.6 in 2014.
2014 was a significant reversal of year-on-year consistent declines in Chlamydia infection rate since 2010, when it reached a peak of 563 per 100,000.
Gonorrhea
Denver's average Gonorrhea infection rate also saw a significant rise in 2014, when compared to the previous year.
While 2013's infection rate had reached a low of 67.8 per 100,000, 2014's rate went up to 74.7 per 100,000 of the population.
It is interesting to note that there is quite a difference between the US total average and the Denver average.
While the Denver's 2014 average was 74.7 as noted above, the US average for the same year was much higher, at 110.7. For the year 2014, the United States had an  of 110.7 per 100,000 people, a 5.1 percent increase from the previous year.
Syphilis
Another indication of Denver's success in combating STDs is in the low infection rate for Syphilis.
While the US average for 2014 was 20.1, Denver was much lower, at 11.0.
This continues a 3-year positive trend where the rate was 16.4 in 2012 and 14.2 in 2013. Recent investments  into improving public health are certainly paying off.
HIV
Unfortunately, Denver's success in combating other STDs has not transferred to its campaign against HIV.
HIV was the second most common STI in 2014, after Chlamydia. A total of 9,120 individuals in the Denver metropolitan area (which includes Aurora and Lakewood) were diagnosed with HIV in 2014. This translates to an infection rate of 337.8.
Learn More
Learn more about STD testing options and locations from Denver Public Health's website at http://www.denverhealth.org/public-health-and-wellness/public-health.